Pool Cover Source Presents...
Pool Safety Tips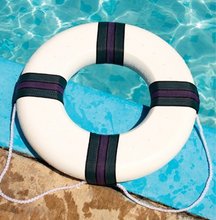 A swimming pool can be very dangerous for children. If possible, do not put a swimming pool in your yard until your children are older than 5 years. Each year, about 260 children under the age of 5 drown in swimming pools. In addition, the suction from drains in swimming pools and spas, under certain conditions, can entrap swimmers underwater. To help protect your family, be sure to take the following steps.
- Never leave children alone in or near the pool, even for a moment.
- Install a fence at least four-foot high around all four sides of the pool.
- Make sure pool gates self-close and self-latch at a height children can't reach.
- Keep rescue equipment (a shepherd's hook - a long pole with a hook on the end - and life preserver) and a portable telephone near the pool.
- Avoid inflatable swimming aids such as "floaties." They are not a substitute for approved life vests and can give children a false sense of security.
- Children are not developmentally ready for swim lessons until after their fourth birthday. Swim programs for children under 4 should not be seen as a way to decrease the risk of drowning.
- Whenever infants or toddlers are in or around water, an adult should be within arm's length, providing "touch supervision."
Fun in the Sun
For Older Children:
- The first, and best, line of defense against the sun is covering up. Wear a hat with a three-inch brim or a bill facing forward, sunglasses (look for sunglasses that block 99-100% of ultraviolet rays) and cotton clothing with a tight weave.
- Stay in the shade whenever possible, and avoid sun exposure during the peak intensity hours - between 10 a.m. and 4 p.m.
- Sunscreen with an SPF (sun protection factor) of 15 should be effective for most people. Be sure to apply enough sunscreen - about one ounce per sitting for a young adult.
- Reapply sunscreen every two hours, or after swimming or sweating.
For Young Children:
- Babies under 6 months of age should be kept out of the direct sunlight. Move your baby to the shade or under a tree, umbrella or the stroller canopy.
- Dress babies in lightweight clothing that covers the arms and legs and use brimmed hats.
- Apply sunscreen at least 30 minutes before going outside, and use sunscreen even on cloudy days. The SPF should be at least 15.